Earlier this year, at Apple's Worldwide Developers Conference (), the company revealed the follow-up to macOS Sierra, comically dubbed macOS High Sierra. As you might expect from a name change that subtle, the transition from macOS Sierra appears to be similar in magnitude to those we saw when OS X Leopard became Snow Leopard.
While Apple took to the stage on September 12 to launch the iPhone 8 and iPhone X, the firm sneakily revealed the macOS High Sierra release date through its website: September 25.
Last year's update to the Mac OS X of old was very well received, bringing better integration between Macs running the software and iPhones and Apple Watch devices. High Sierra, on the other hand, seems to be iterating on functionality that's already in place. Nevertheless, here's everything we know so far.
Cut to the chase
What is it? The 2017 edition of Apple's Mac operating system, macOS
When is it out? Final release is on September 25
What will it cost? macOS 10.13 will be free to download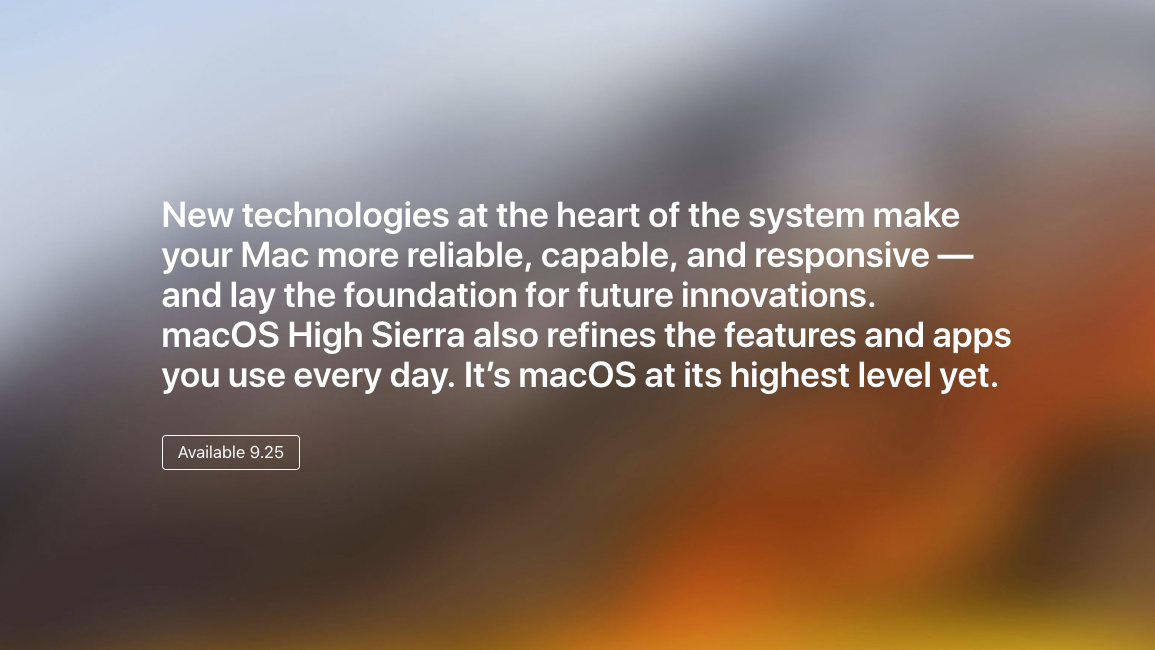 macOS 10.13 High Sierra release date
Apple announced macOS 10.13 High Sierra at the WWDC 2017 keynote event, which came as little surprise, as it's traditional for Apple to announce the latest version of its Mac software at its annual developer event.
But, when will we be able to download and use macOS 10.13 High Sierra? Apple revealed on September 12 that the full version of High Sierra will release on September 25.
But, if you're really keen to try it out then you can download the macOS 10.13 High Sierra Developer Preview right now.
To do so, head over to the , which will show you everything you need to sign up for the program and will then allow you to download macOS 10.13 High Sierra Developer Preview. It's in its ninth version right now, so while it's much closer to its final form, we still can't recommend installing it on a primary machine.
A public beta for macOS 10.13 was seeded to risk takers and dual booters in late June, and was treated to its fifth update (version 6 altogether) back in mid August. Like the developer beta, it's not perfectly stable yet, so your best bet is to wait for macOS High Sierra to erupt in full force in just two weeks time.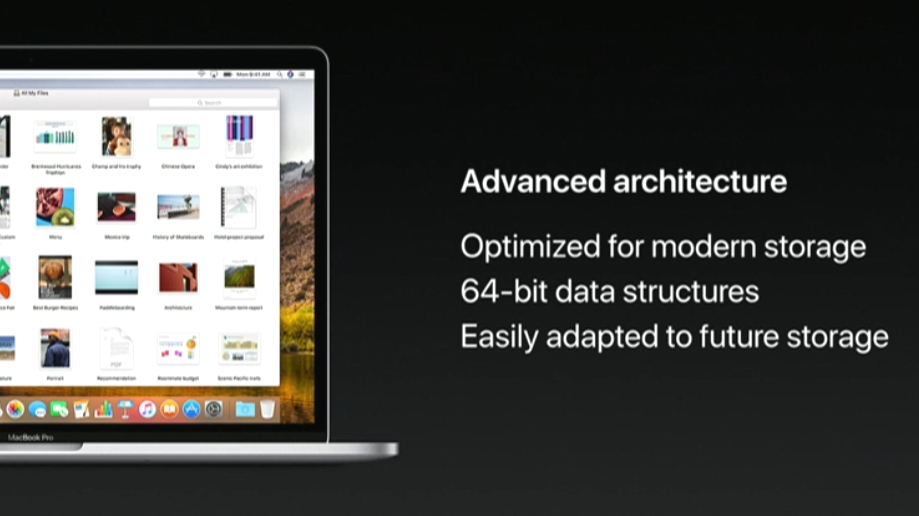 macOS 10.13 High Sierra features
Apple has promised a number of exciting new features with macOS 10.13 High Sierra. These include improvements to Safari – which now will thwart ad-tracking and auto-playing videos – and a more comprehensive Spotlight Search in the Mail App.
Plus, when you're writing emails, the app now allows split view for the compose window – and it will use up to 35% less disk space as well.
The Photos app has also been updated in macOS 10.13 High Sierra, with a better sorting tool, alongside a new layout, better facial recognition thanks to neural networks, and better syncing across all Apple devices.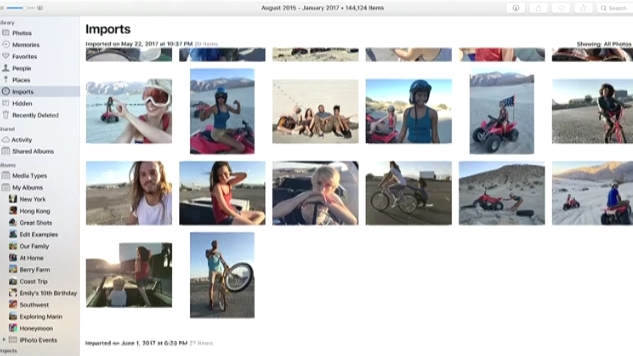 Editing tools have also been improved, making it easier than ever to improve your photos without knowing too much about the process. You'll even get to apply Instagram-like filters to your photos in post.
One of the biggest changes with macOS High Sierra is with the file system. It's ditching the HFS – which Apple has used for around 30 years, and is now using the Apple File System (APFS). Every Mac that's upgraded to macOS High Sierra will make this files system change automatically while new Macs will come pre-formatted.
APFS, to be exact, is a 64-bit file system that supports native encryption and faster metadata operation. This may all sound a bit techy, but the bottom line is that this will make your Mac feel a lot faster, while also being more secure and more transparent about the nature of your files and folder contents.
The update will also bring HEVC, or H.265, video compression to the Mac. The firm claims that this new standard can compress video files 40% more than the previous-generation H.264 standard. The end result will be faster video streams at higher resolutions – ahem, 4K – and smaller video files sizes when stored locally.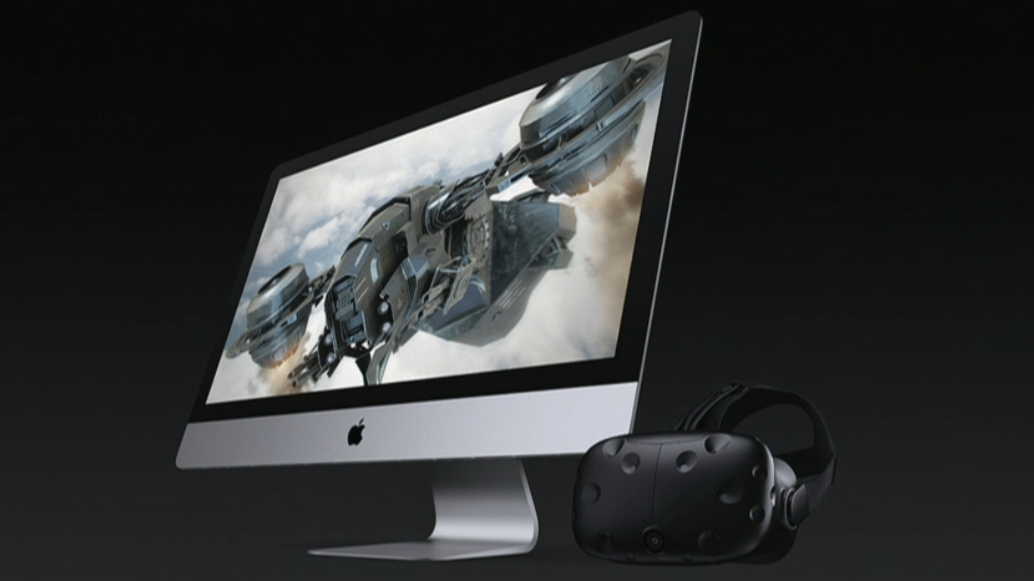 VR finally comes to the Mac
One of the biggest bits of news surrounding macOS High Sierra is that it will finally bring support for virtual reality headsets officially. Namely, the and Steam VR will work with Macs running the new OS this autumn.
However, to use such a device, you'll need at least a 5K iMac or MacBook Pro – or, any Mac that can run the new OS with an . Support for such devices will come part and parcel with macOS High Sierra. but won't be an available function until spring 2018.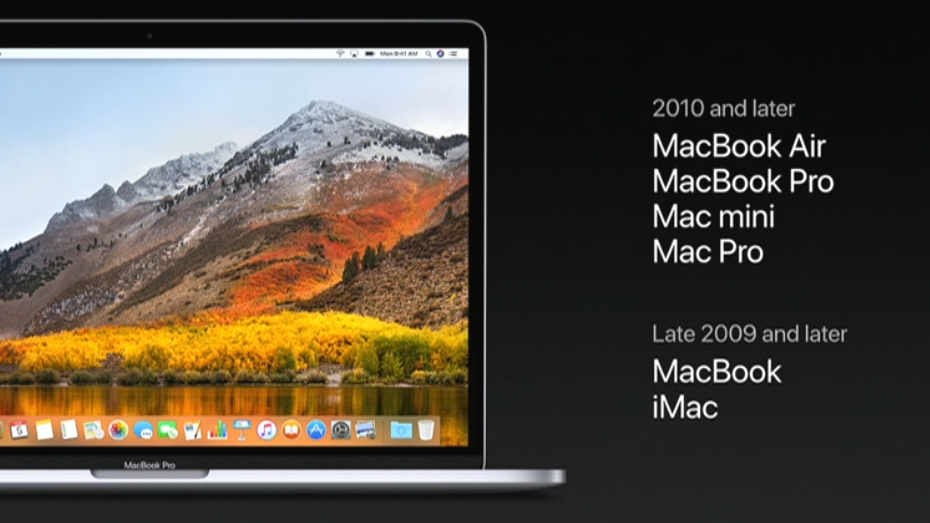 macOS 10.13 High Sierra compatibility
Fortunately, in the act of creating a macOS iteration that only moderately shakes things up, the barrier to entry didn't change at all. As long as you're rocking one of the following Mac models, you'll be good to go with macOS High Sierra on day one:
Bear in mind that if you want to take advantage of the High Efficiency Video Coding (HEVC) benefits posed by macOS High Sierra, you'll need a Mac donning – at the very least – an Intel sixth-generation Skylake processor. That means that, yes, will do just fine.
Joe Osborne and Gabe Carey have also contributed to this report.
These are the best Macs that you can buy right now